Mare Termale Bolognese
Mare Termale Bolognese is the response to every need: wellbeing, health, beauty and relax.
Five thermal spa located in five different neighborood of the city, to satisfy all tastes and to cure diseases...

With a convenient central location, this spa centre is ideal for time-out in the water and for beauty treatments. The same bicarbonate-sulphate-calcic spa water is used from the "Alexander" spring as at the Terme Felsinee, thanks to 5km-long thermal pipes which pass through canals that were used by silk-works during the Renaissance.
Diagnostic and specialised healthcare is provided by the Antalgik outpatients clinic which has major health-care facilities and completes and integrates the services offered by Terme San Petronio. The services are run in respect of the World Health Organisation's definition, which describes health as "a state of complete physical, psychological and social wellbeing, and not simply the absence of disease".
Newly opened, BODI is a diagnostic pole of excellence with facilities for CAT scans, open and closed MRI with or without contrast material, digital mammograms, digital radiography, densitometry, ultrasound scans and so on – a real concentration of technology all in one place.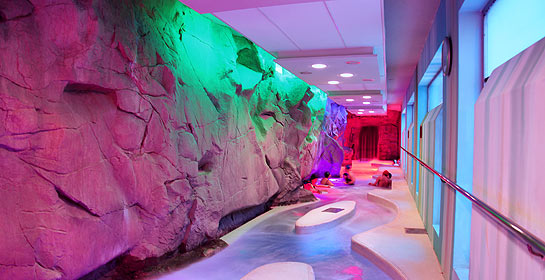 A historic "temple of fitness" dating back over 25 years, Pluricenter is now even bigger and more comprehensive, thanks to spa-water swimming pools - an ideal spa-wellness centre with integrated facilities.
The rich bicarbonate-sulphate-calcic spa water, which incorporates 18 trace elements, widens Bologna's spa tradition and brings it into the new millennium in a pleasant and varied environment that invites exploration.
Fitness, wellness and rehabilitation both in the gym and in the spa-water pools, Terme San Luca has it all.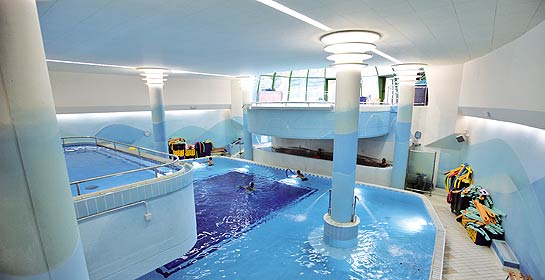 The Terme Felsinee spa centre, the first of the Mare Termale Bolognese spas, uses two types of spa water (bicarbonate-sulphate-calcic and sulphureous).
Terme Felsinee offers spa baths, wellness packages, water-based courses for all requirements (from basic fitness to functional rehabilitation), inhalation and respiratory cures, as well as specialised health-care and physiotherapy.
Villaggio della Salute Più is located in the Sillaro river valley in the foothills of the Apennines, just outside Bologna. As a centre it is one of a kind, aimed at health, wellness and relaxation for all ages, all year round. The Terme dell'Agriturismo spa is open all year, whilst the Salute Più Acquapark is open from May to September. There is also the agriturismo, a working farm offering accommodation and restaurant facilities – altogether the services offered by Villaggio are many and varied.

Terme Acquabios
The individual character of the Terme Acquabios spa centre – the newest of the Mare Termale Bolognese spa centres - is down to its personal and personalised approached.
The centre moved into new 1500sq.m premises in 2009, opening up a hydrotherapy area which also uses the Terme Felsinee spa water. Since 2013 it uses its own thermal spring.
Terme Acquabios is a point of pride for the Bologna area in the field of wellness, treatments and functional rehabilitation
Drop us a line if you want more information in English - or read below.